SAP SuccessFactors Learning at UCT
UCT's Human Resources department (HR) continues to automate and improve HR processes. Following the phased implementation of Employee Self-Service and SuccessFactors Learning, the next major component for implementation is SuccessFactors eRecruitment.
Why SuccessFactors Learning?
UCT employees have access to a wide range of training offered by each of the following UCT learning centres:
The Staff Learning Centre (Human Resource Department)
Office of Inclusivity & Change (Office of the Vice-Chancellor)
ICTS Training (Information & Communication Technology Services)
Research Development (Research Office)
Research Systems Support (Research Office)
Research Integrity (Research Office)
Health, Safety & Environment (Properties & Services)
Student Systems Support (Office of the Registrar)
Health Systems Support (Faculty of Health Sciences)
HR Systems Training (Human Resource Department)
Finance Systems Training (Finance Department)
With so many different training providers, this decentralised training model often makes it difficult to find the relevant training.  Once the right course is found, the processes that follow can be cumbersome, where processes are either manual or different, in-house developed systems are used. 
When information is stored in different databases (and often in spreadsheets), it's difficult to track an employee's training history – which in turn hinders analysis of progress and thereby decisions on an employee's current or future training needs.  This decentralised model makes sharing of resources and learning materials difficult, resulting in missed opportunities for collaboration between UCT learning centres.
On a larger scale, the current setup has made it difficult for UCT to provide accurate and comprehensive government-required reporting on staff development. These reports are used to determine an institution's BBBEE rating.
SAP SuccessFactors Learning
SuccessFactors Learning is a SAP product which centralises training for employees – giving you a one-stop shop to find, book and manage your development activities.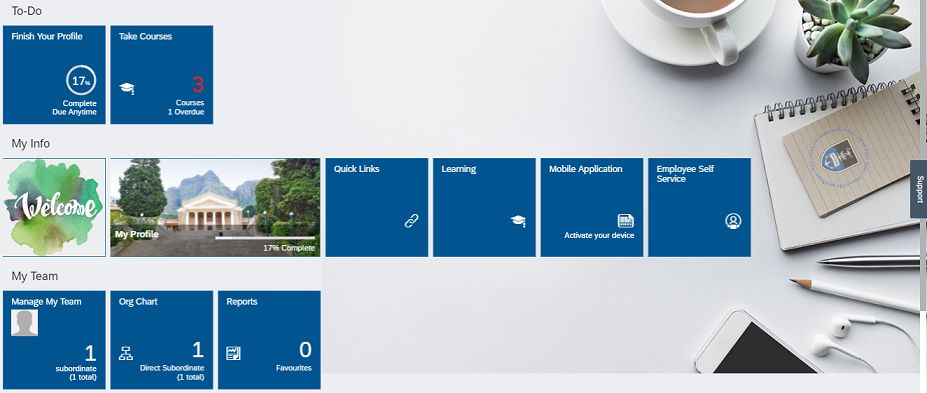 Using the SuccessFactors Learning Management System, staff members can:
Easily find staff training courses offered by UCT's various learning hubs.
Request course schedules.
Register for courses.
View their course history.
Automatically assign training.
Manage courses, schedules, qualifications, exams and certifications.
Get reminders and notifications related to their training.
The SuccessFactors Learning offers:
Blended learning capabilities for developing employee skills.
A user friendly front-end which is easy to understand and navigate.
Instant access for managers to see their team members learning progress.
And much more…
What are the benefits?
For individuals

For UCT

Convenience: The platform is available on any internet-connected device – including smart phones and tablets – and uses your existing UCT login details for authentication.
Easy access to a wide range of courses: Courses from various UCT learning centres are accessible via a single platform, making it easy to find what you're looking for.
Efficiency and reduced paperwork: Time-consuming manual booking processes are replaced by streamlined, automated processes on a single platform – without multiple forms and emails. The self-service provisioning also reduces the load on facilitators, while providing easy workflow for delegated authorities to approve training.
Your development history – all in one place: No matter which learning centre's courses you complete, your training history will be consolidated and stored in the SuccessFactor Learning – giving you a convenient set of information to look back on what you've learnt so far and to help you decide where you can grow in the future.

Unified training management: SuccessFactors Learning moves UCT away from disjointed and inconsistent administration of training activities. It provides a unified, consistent platform and method to manage developmental activities for employees. It also supports the institutional learning and development strategy.
Secure, reliable data storage: Unlike manual processes – which include a high risk of losing documents, the platform stores all data and retains it securely in the cloud.
Enhanced reporting: The system gives UCT in-depth, reliable reporting capabilities which will allow the university to generate valuable records for both legislative and quality-related purposes.
Institutional collaboration: The SuccessFactor Learning centralises training information giving learning centres access to more data and the ability to analyse trends and collaborate on providing a better and more effective service to UCT employees.

 
When can we use it?
SuccessFactors Learning is readily available to UCT staff and staff are encouraged to log on using their UCT single sign-on credentials.
UCT learning centres wanting to make use of SuccessFactors Learning to promote and manage their learning offerings can contact karin.smit@uct.ac.za
Page last updated:  15 April 2021